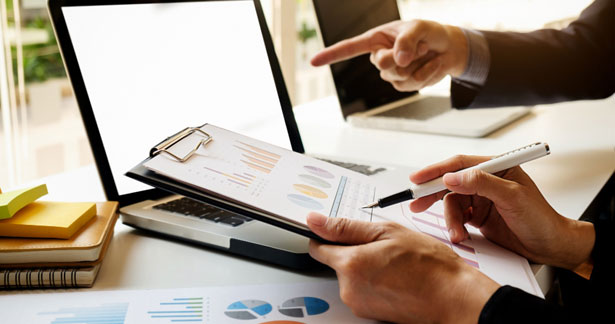 Technology plays a vital role in every aspect of your firm's operations, from basic bookkeeping tasks to intricate financial reporting that ultimately reaches the CEO's desk. However, it is crucial to ensure that your IT systems are properly maintained to avoid potential issues. Failure to do so can result in various problems, such as unexpected downtime that leads to productivity slowdowns or security incidents that jeopardize sensitive client data. Furthermore, these incidents can also harm your firm's reputation for integrity. Therefore, it is imperative to prioritize the correct maintenance of your IT systems to mitigate any potential risks and ensure the smooth functioning of your business operations.
InfoTech Management is a leading provider of IT support services specifically tailored for accounting firms and Certified Public Accountants (CPAs). With our expertise and experience in the industry, we understand the unique technology needs of accounting professionals. Our goal is to ensure that your systems are always up and running smoothly, allowing you to focus on serving your clients without worrying about IT issues data breaches. This can not only result in a loss of patient trust but also lead to legal and financial repercussions for the dental practice.
To address these challenges, InfoTech specializes in providing professional IT support specifically tailored for dental offices. Our primary objective is to ensure that your IT systems are functioning optimally, minimizing the risk of downtime and security incidents. Our team of experienced IT professionals understands the unique needs and requirements of dental practices and can provide comprehensive support to keep your systems running smoothly.
Our services encompass a wide range of IT support, including regular maintenance and updates, proactive monitoring, data backup and recovery, network security, and software management. We work closely with dental practices to understand their specific IT needs and develop customized solutions that align with their goals and objectives.
By partnering with InfoTech for your IT support needs, you can rest assured that your dental practice will benefit from reliable and efficient technology. Our proactive approach to IT management ensures that potential issues are identified and resolved before they escalate, minimizing disruptions and maximizing productivity. Additionally, our focus on robust security measures helps safeguard patient data and protects the reputation of your dental practice.
Our Custom IT solutions for your company will:
Protect your client's data
Clients entrust you with reams of critical data, placing a significant responsibility on your shoulders. The importance of securely storing this data cannot be overstated, as the consequences of a breach can be severe. Lawsuits, fines, and monitoring expenses are just a few of the potential outcomes, not to mention the damage it can cause to the pristine reputation you have painstakingly built.
To help safeguard your data and protect your business, InfoTech offers comprehensive IT audits. Our experienced team conducts thorough assessments of your office's IT systems to ensure that they meet stringent security requirements. Through rigorous testing and analysis, we identify vulnerabilities and potential weaknesses in your infrastructure, allowing you to take proactive steps towards strengthening your data protection measures.
During the audit process, we conduct a detailed review of your network security protocols, data storage practices, access controls, and encryption methods. We also assess your disaster recovery plans and backup systems to ensure that they are robust and capable of restoring your operations swiftly in the event of an unforeseen incident.
Our team of experts employs cutting-edge tools and methodologies to identify any potential security gaps that could leave your data vulnerable to breaches. By leveraging our in-depth knowledge of industry best practices and regulatory standards, we provide you with actionable insights and recommendations to enhance your security posture.
With InfoTech's IT audit services, you can have peace of mind knowing that your office is equipped with the necessary measures to protect your clients' data and maintain your reputation. Our comprehensive approach ensures that all aspects of your IT systems are thoroughly examined, providing you with a comprehensive understanding of your security landscape.
Don't let the fear of data breaches and the associated consequences weigh you down. Contact InfoTech today and let our experts guide you towards a more secure future.
Protect your firm against costly ransomware attacks, viruses, and more
Ransomware attacks routinely target accounting firms, knowing that they have access to large volumes of sensitive data. Firms that aren't prepared may have to agree to pay a steep ransom—or risk losing access to their client data altogether.
INFOTECH installs anti-malware and anti-virus software to protect every one of our clients against ransomware, viruses, and other malware. We use cloud-based software that protects you from the newest threats without having to run tedious manual updates or install patches.
Keep your systems running—without wasting time during the day
Our accounting clients value their time, and don't want to spend it by waiting for software and hardware updates to install during the day. InfoTech Management takes care of all updates outside of office hours, so that when you sit down at your desk in the morning, your computer is ready to go.
INFOTECH also routinely backs up all of your firm's data—including client information—to the cloud. We rely on secure cloud-based backups that keep data safe even in case of an on-site event or a disaster.
We'll manage your IT projects for you
Your office staff has enough on their plate without having to take care of complex IT projects. When you hire NCP, we'll fill the project manager role, whether you're upgrading your software, migrating to a completely new system, or planning to install new hardware in the office.
We can also configure workstations for remote employees, so that they have the same access as everyone in the office.
Server monitoring is the most important service due to the critical nature of servers. It is required that someone constantly monitors the status of the managed servers. Infotech Management remote monitoring of all warning events and errors that get generated on the server will allow us to proactively analyze the server. Read More…
A hardware or software rollout can be very labor intensive and tie up your valuable IT resources very quickly. Costs can rocket when you take into account hiring individual contractors and their agency fees and paying your own staff for overtime. A simple rollout project can soon become a long, drawn out and costly process. Read more…

Infotech has been our IT company for about two years. I find that they are reliable, pleasant and very informed on all the latest technology. Their response time is always good and they are always prepared. I have been very happy with the service.
— MERCEDES KEENE, MARKETING AND OFFICE COORDINATOR – RISK MANAGEMENT GROUP